Outdoor Learning
Our Outdoor Learning page has now moved onto our school blog. Visit our school blog for the latest updates - http://theblog.is/lowerfields
We have had lots of help from volunteers from Yorkshire Building Society over the past few weeks, with 5 teams helping us on a variety of tasks. They have helped us pick up over 15 bags of rubbish from the grounds, weed all the grow beds, shift lots of compost and woodchip and rescue our new hedges and trees from weeds.
Their help is vital in maintaining and developing our outdoor resources.
Also, here are some pictures from the school grounds in November. Our grounds are looking quite different in winter, but there is still plenty of colour to be seen.
We have had a good year in our growing area with lots of interesting crops grown by children. These include grapes, figs, kale, cabbage, chard, potatoes, beans and carrots. We have also had another great crop of apples and children have had a chance to pick and eat apples straight from the tree.
Meanwhile, in our nature area, volunteers from Bradford Environmental Education Service (BEES) worked hard to cut and rake our wildflower meadow and clear the plants from the pond. We have a great number of species in our wildflower meadows which attract a variety of insects such as this Comma butterfly.
Autumn Colours
Year 1 have planted some wildflower seeds in their grow bed. These provide a great nectar source for bees and butterflies.
Gardening club have grown lettuce which is used by the school kitchen to make salads.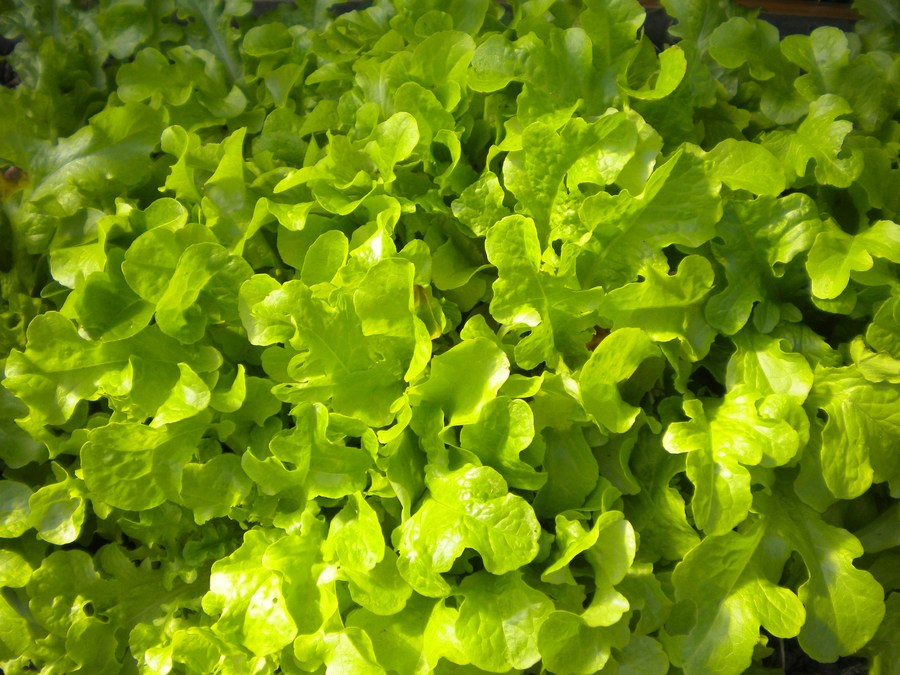 October 2014
We grow different varieties of apples in our Orchard at school. Children pick them as part of their lessons and the apples are then taken to the kitchen to be made into apple pies.
July 2014
Our wildflower meadow has a large number of flower and grass species in it this year, attracting plenty of insects such as butterflies. You may also notice some other areas around school where we are developing meadow areas, such as in the Orchard.
Spring 2014
There are plenty of signs in our grounds that Spring is well on its way. Last Autumn, children in Year 4 and Year 2 planted crocus bulbs which have started to come up. There are catkins on many trees and we have seen bumble bees on blossom on our plum trees.
Volunteer Day
Just before half term, we had volunteers from BEES (Bradford Environmental Education Service) visit to help us in the grounds again. This time, we were tidying up our willow sculptures which were rather overgrown. Willow is very bendy and will grow after it has been cut, so it is great for creating living sculptures such as our dome in Key Stage 1 playground and the tunnel by the ball court. There is also a willow dome in nursery.
The team also 'coppiced' some willow trees in the nature area. They cut the trees down to let more light in for wildflowers to grow. The trees will grow again. We used the wood to start creating a fence around the pond.
January 2014
A team of staff and volunteers from the community have started work outdoors every Friday morning from 9am for a couple of hours. We have been focusing primarily on clearing litter in the school grounds, starting with the playing fields by Fenby Avenue and moving through the Nature Area and other 'grot' spots. So far we have cleared 20 bags of rubbish and there is still more to do!
We will continue the litter picking in the Nature Area and then start to plant shrubs to improve the environment in our school grounds. If you would like to join in on a Friday morning, please contact Cathy Fowler or Mrs Hodgson.
Big Schools Bird Watch January 2014
Green Team and Years 4 and 5 have been taking part in the Big Schools Bird Watch. For more information, or to take part in the Big Garden Bird Watch, please go to http://www.rspb.org.uk/schoolswatch/
What's going on outdoors in Autumn?
Nature Area
We let the grass grow long in the Nature Area as it is a wildflower meadow. This provides a great habitat for insects, especially butterflies. We need to cut and rake this once a year in Autumn, to ensure the best conditions for our meadow to grow next year.
Volunteers from Bradford Environmental Education Service (BEES for short) came on Friday 29th November to cut and rake the meadow for us. They used a mixture of old fashioned tools (scythe, pitchfork and rake) as well as a more modern 'autoscythe' which is like a big lawn mower.
The volunteers also cleared a lot of the plants from the pond as it was becoming quite overgrown. They pile all the weeds on the side of the pond, so that any creatures can easily get back in. This is also an autumn job.
Grow beds and Orchard
We have had some fantastic crops this year. We were donated a lot of plants by Morrisons – Cabbage, Broccoli, Tomatoes, Strawberries and Herbs. Most children had a chance to plant some of these in their class grow beds. We have been able to provide our kitchen with cabbage, broccoli and potatoes as well as masses of tomatoes.
We would not have had the crops we did, without the donations of plants and the various volunteers who helped us with preparing the beds and keeping on top of the weeding.
We have also had a great year for fruit, with apples from all of our trees, plums, some pears, blackcurrants and strawberries. Most classes have had a chance to pick and eat apples or to have an apple tasting session where they tried different varieties. We have also given apples to the kitchen for use in cooking or to give out as snacks.
Silver Birch, how this tree changes through the seasons
Coming up
Winter is the time for work on trees – as once they have lost their leaves, they are 'dormant' – which is like being asleep. We can plant more trees now as well as tidying up our willow sculptures, and pruning or 'coppicing' some of our larger trees.